Have You Heard Sitting is The New Smoking!
Okay so I will show you a picture – take a deep breath and decide is this you?
Well, is it?
If it is – as my dearly departed grandfather used to say "You sit like a sack of potatoes."
At this point, you may raise your eyebrows and think 'I didn't know that potatoes had a sitting posture?' But in all seriousness, your spine in this position is under a lot of  strain and the supporting structures are reluctantly having to do more, or indeed less than they are designed to do.
Long periods of sitting poorly at work, on devices; laptops, computers, phones etc will ultimately lead to misery at some point.
Other influential factors may include:-
Poor ergonomic setup
A Sedentary Lifestyle
Poor Core Stability
Long periods cycling
Muscle imbalances – Please see 'upper cross syndrome' or 'lower cross syndrome'
Decreased fitness, fatigue or de-conditioning post injury.
Now for Question 2
Are you experiencing Neck pain, Lower back pain, Shoulder pain, Tingling or Headaches?
If yes….
Question 3 is …What are you going to do about it?
Physiotherapists at the Avenue Clinic are keen to safeguard your well-being and can offer:
Postural re-education
Individualised exercise prescription to improve strength, posture and flexibility
Clinical Massage
Joint mobilisations
Electrotherapy
Onward referral to other health care services
Activity modification advice
Clinical Pilates
Ergonomic desk set-up
Ergonomic mobile/device advice
So the last Question for you… Do you want to go from this to this??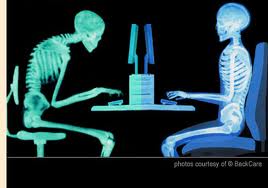 Call Avenue Clinic and make an appointment.
Thanks for dropping by.
References
http://www.massaveda.com/blog/wp-content/uploads/2014/03/uppercross.jpg
http://www.spinalsolutions.org.uk/wp-content/uploads/2014/01/forward-head-posture-2.jpg
https://www.google.co.uk/search?q=upper+cross+syndrome&client=safari&hl=en-gb&prmd=ivsn&source=lnms&tbm=isch&sa=X&ved=0ahUKEwj8i_OdgKjMAhXLAMAKHVLRAaoQ_AUIBygB&biw=568&bih=232#imgrc=qKmJ2wBo7fDN6M%3A