Goldilocks Pillows
Better Spine alignment  = better sleep.
There is a universal agreement between sleep experts around the world that the most important function of a pillow is to fill the gap between your head and shoulder. By filling this gap with the right sized pillow it aids alignment and gives you a better night's sleep.
Whether you sleep on a memory foam, polyester or feather pillow, the pillow should align your spine – essential for good health and a restful night's sleep. Nearly 80% of us sleep on more than one pillow; instictively trying to achieve alignment and comfort and so better sleep.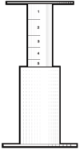 We are all used to buying our clothes and shoes according to our size so the process of getting measured and knowing your pillow size is quite an easy one to understand. Using Goldilocks patented hand held pillow size measuring device allows us to obtain your pillow size in seconds (size 1,2,3,4 or 5). The measuring is done with you either sitting or standing and is a straight forward one step procedure that is consistent and reliable.
.
Goldilocks pillows come in 5 different height sizes (sizes 1 – 5). By using Goldilocks Pillows it actively helps to provide healthier sleep.
No more guessing how many pillows you should use. Just use one pillow, the one that is YOUR SIZE.
Do you know your pillow size? Come in to Avenue Clinic to find out more…
For more details visit :  http://www.goldilockspillows.co.uk  (the above is from their website)
"Within two weeks of changing to my Goldilocks pillow my neck was less painful, and sleep much less disturbed. I take the pillow wherever I travel, virtually guaranteeing a good nights rest, waking up refreshed and ready to go".

.