Stand Up Paddleboarding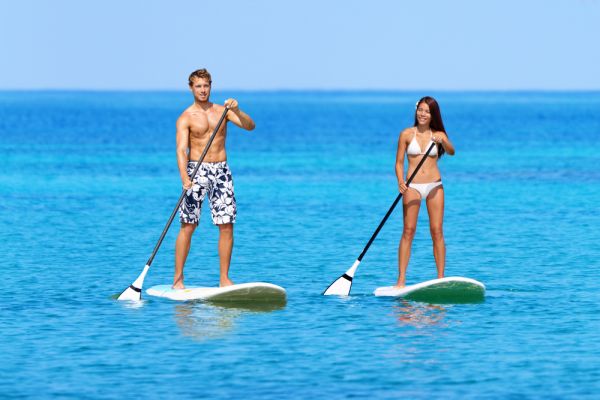 So some of you may have experienced an unfamiliar site down the beach this summer already.  YES, people standing up on boards using a paddle?  Well, this is the new craze of Stand Up Paddleboarding or 'SUP'ing for short. This relatively new watersport has been taking the world by storm over the last few years and it can be enjoyed by people of all ages and fitness. When people think of boards, they often think of waves but SUPing can be done in the flat water for fitness and exercise or  simply to explore the beautiful bays Guernsey has to offer whilst enjoying the water but usually all three come into play so why not get fit whilst not thinking about it!!!
The health and fitness benefits of Stand Up Paddle Boarding are much talked about and for good reason. SUPing is known to assist the body in increasing strength in both the upper and lower body, improving muscle tone, helping to build core strength and creates body awareness. For the mind and soul,  SUPing can provide relaxation and is a very effective de-stressor.
Infact, Dr. Cedric Byrant, chief science officer for the American Council on Exercise stated 'Stand Up Paddleboarding is a great core workout, engaging every muscle either actively or as a core stabilizer ' and when the biomechanics of the sport were further studied, it was shown that all of your stabilizing muscles in the hip, lower leg and knee joints were activated in a therapeutic way to stabilize balance on this unstable surface.
Benefits Summary:
Low impact, full body cardiovascular workout
Tones and strengthens core muscles
Targets arms, abs and thighs all at once
Improves balance and co-ordination
Builds confidence in and out of the water
Social and fun!
However, don't go to hard at first. Start off slowly and take a few minutes to warm up and always cool down after. Make sure you are using the correct length paddle for your size to avoid any back issues and learn basic paddle skills to prevent any shoulder complaints.  If you are interested in trying SUP, its advisable to contact your local SUP school or contact us at the clinic if you are unsure whether its the right activity for you.
If you have any questions on any sports or SUP related injuries then contact us at Avenue Clinic on 01481 728798 or email admin@avenueclinic.co.uk
cheers Ian
References:
http://www.mensjournal.com/magazine/laird-hamilton-why-i-love-paddleboarding-20130815
http://online.wsj.com/news/articles/SB10001424052748703720504575377023651849234
http://www.paddlesurfing.com.au/Home/About-SUP/SUP-Fitness
http://www.reuters.com/article/2013/08/12/us-fitness-paddleboarding-idUSBRE97B0OD20130812